The Projects We Contract for Are Diverse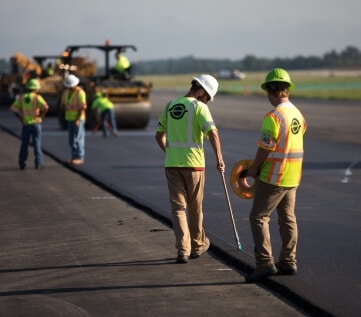 Barrett Industries supplies asphalt products to our customers and crews through more than 40 subsidiary production facilities across Kentucky, Maryland, New York, Ohio, and Pennsylvania.
We are not limited to just one kind of project, and we will contract anything from simple surface courses for private residential drives to complex mix designs for large-scale commercial projects such as highways, ports, and airports. Our size and resources allow us to provide asphalt products and offer construction services in order to handle every aspect of your next project.
To create the right products requires the right team, which is why all of our facilities are DOT-certified and employed with staff who uphold strict quality, safety, and operating standards. Our team of certified technicians is equipped with state-of-the-art inspection and testing laboratories to ensure all your material specification needs are met. These qualifications are why each of our asphalt plants are recognized with the NAPA Diamond Award for operational excellence.
Contact us today to find out more about how we can equip your asphalt projects.
Are you interested in learning a little more about sustainability? Check out our Asphalt Sustainability page thanks to great resources from our friends at the National Asphalt Pavement Association (NAPA)!
About Colas
About Barrett Industries Subsidiaries