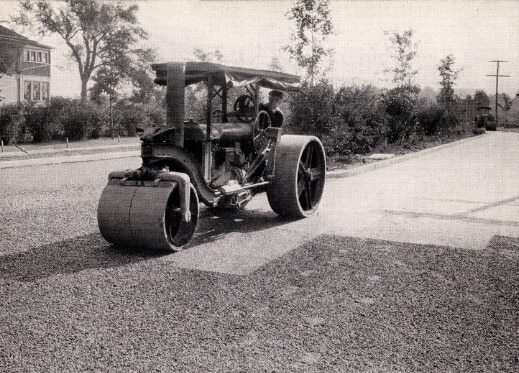 Road construction was far from Samuel E. Barrett's mind when he began a small roofing business in Chicago, Illinois, in 1854. As his operation expanded, Barrett realized that America's growing cities were literally getting stuck in the mud, and he saw the need for innovative solutions for the country's burgeoning road system. The demand for paved streets and sidewalks led Barrett to experiment with roofing tar as a treatment for brick, stone, and wooden block pavements. The concept was a success, and Barrett Paving Materials was born.
In 1903, the Barrett Manufacturing Company initiated experiments in Jackson, Tennessee, which eventually led to the development of Tarvia™. Tarviated roads were a cost-effective solution for creating and repairing the roads that Americans and their Model Ts so desperately needed. Barrett's advertising campaign, "good roads at low cost," targeted American consumers and informed them of how Tarvia™ could improve not only their roads but also their lives. Tarvia™ drastically improved the nation's rural highways, contributing to the success of the automobile and unprecedented commerce between rural communities and distant cities.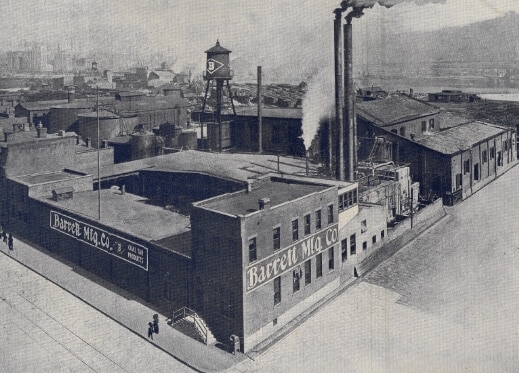 The beginnings of collaboration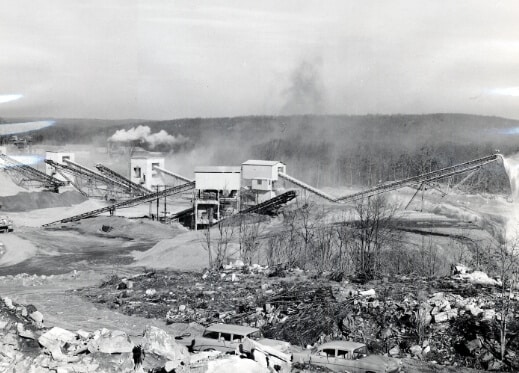 During World War I, Germany controlled much of the world's chemical industry, causing a worldwide shortage of such commodities as dyes and drugs. To combat this problem, Barrett and four other American chemical companies merged to form the Allied Chemical & Dye Corporation in 1920. Allied instantly become one of the largest companies in the world and was poised to lend its industrial might to America's national defense, if necessary. Paving materials were handled by the Barrett Division of Allied Chemical & Dye Corp.
In 1927, Barrett constructed a stationary mix plant in Jamesville, New York, marking the beginning of the company's evolution into the modern asphalt paving and road construction business. Over the next 50 years, the Barrett paving organization built a network of manufacturing plants throughout New York, New Jersey, Ohio, and Illinois.
Paving and road construction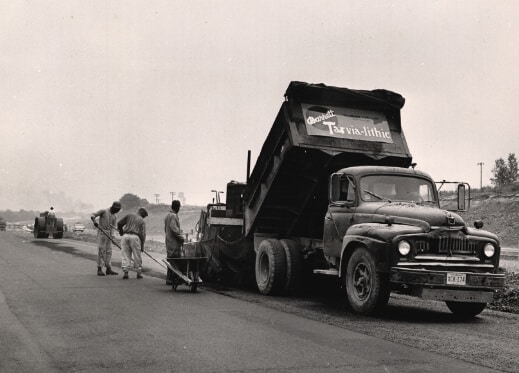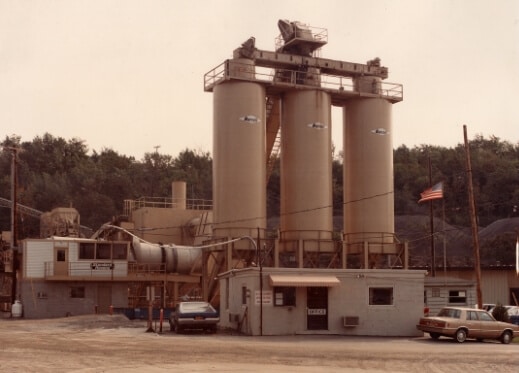 In 1979, Barrett joined Colas, Inc., ushering in a new era of productivity. With the backing of the largest road building company in the world, Barrett began a series of major acquisitions and consolidations, including:
The Brewer Company (1987)
Midland Asphalt Materials (2000)
Spring Creek Corporation (2000)
Penn Can Asphalt Materials (2002)
IA Construction Corporation (2003)
Southern Ohio Paving (2004)
Oswego Asphalt (2005)
Adirondack Asphalt (2005)
Terry Asphalt Materials (2006)
Strawser Construction Inc. (2008)
Upstone Materials, Inc (2017)
HRI, Inc. (2017)
The addition of these valuable assets, along with several smaller acquisitions, transformed Barrett Paving Materials Inc. into the company it is today – Barrett Industries.
About Colas
About Barrett Industries Subsidiaries