Building Foundations for the Future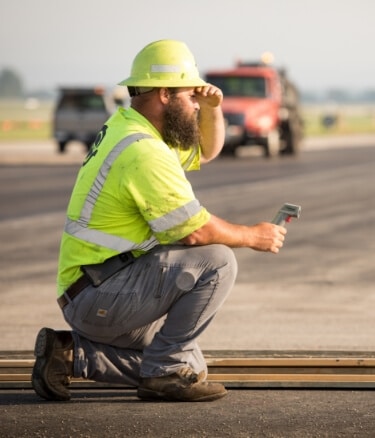 Through our subsidiaries, Barrett Industries offers a complete range of services to aid in your infrastructure needs, enabling you to see a project successfully completed.
We specialize in:
Besides our quality and innovative products, our services include asphalt paving, aggregate base construction, site development, airport construction, grading, and drainage. Between products and services, Barrett Industries provides anything you need for your construction project.
Let us know how we can meet your paving and construction needs.
Maintaining standards of excellence from start to finish
We contract with both private companies and government agencies from the Mississippi River to the Eastern Seaboard, and from the Canadian border to Florida in addition to extensively working for DOT agencies and FAA-regulated airports. This experience is evidence that we are equipped to handle any and all services you need, no matter what company you represent or what project you need completed.
Our portfolio ranges from small and medium-sized projects to multimillion-dollar interstate highway and airport projects, wastewater treatment plants, and bridge construction. Our specialized commercial paving services include:
A partner for your every construction need
We recognize that our individual employees are who make the difference on a project, which is we ensure our teams have the right qualifications, training, and experience in order to deliver the best services in construction. Our employee's high-quality work has been recognized with numerous construction awards from both national and state organizations.
About Colas
About Barrett Industries Subsidiaries